We offer only products
in stock
Emocio Vanilla Vanilla scented candle cylinder 50 x 80 mm
Discussion about product
Discussion: Emocio Vanilla Vanilla scented candle cylinder 50 x 80 mm
This item has not been discussed yet. If you want to be first, click on the button Add a contribution
Product description
Customer reviews
Discussion about product
Emocio svíčka
- Vanilla Vanilka
- válec
- 50 x 80 mm
- 1 kus
Svíčka slouží k běžnému pálení, ale může být i skvělým dárkem. Kvalita hoření je velmi vysoká. Svíčky jsou vyrobeny ze zdravotně nezávadného Parafinu vysoké kvality.
Discussion: Emocio Vanilla Vanilla scented candle cylinder 50 x 80 mm
This item has not been discussed yet. If you want to be first, click on the button Add a contribution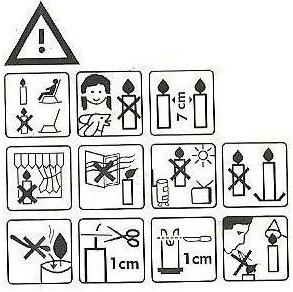 Dodržujte piktogramy uvedené na svíčkách
Nikdy nenechávejte hořící svíčky bez dozoru! Nenechávejte hořící svíčku v dosahu dětí a domácích zvířat o samotě. Ujistěte se prosím, že vždy svíčky hoří ve vzdálenosti 10 cm od sebe a že nad svíčkami je dostatek prostoru na teplo, které vydává plamen. Ujistěte se prosím, že svíce jsou dostatečně vzdáleny od lehce zápalných předmětů.
Používáte-li ozdobné doplňky svící, odstraňte je. Chraňte zapálené svíce před průvanem. Svíce je potřeba zapalovat v dostatečné vzdálenosti od ostatních zdrojů tepla, například televizorů. Při hoření je chraňte před přímými slunečními paprsky. Hřbitovní svíce nebo náplně jsou určeny k dlouhodobému vyhoření. Proto je používejte výhradně venku, nebo ve vhodné náhrobní lampě. Svíčky k venkovnímu použití zapalujte na nehořlavé podložce. Ujistěte se, zda je svíčka ve vzpřímeném stavu.
Seznamte se vždy s instrukcemi danými návodem a dodržujte je. Před použitím odstraňte z výrobku všechny obaly. Votivní, čajové nebo ostatní svíčky stavějte zásadně na nehořlavou podložku. Nestavějte na televizor nebo jiné teplé plochy. Figurální svíčky jsou určeny k dekoračním účelům. Stavte je prosím na širokou podložku, protože svíčky s nepravidelným tvarem mohou kapat. Dohlédněte prosím, aby lampy dobře a samostatně stály. Nad plamenem musí být minimálně 6 cm místa.
Používejte pouze čajové svíčky v hliníkových obalech. Zkraťte knot před zapálením nebo opětovným zapálením svíčky na cca 1 cm. Kouří-li svíčky, zhaste ji a zkraťte knot. Plovoucí svíčky používejte pouze ve vhodných vodou naplněných nádobách. Dohlédněte, aby do rozehřátého vosku nevpadly žádné cizí předměty. Nenechávejte vyhořet svíčku úplně až k podložce.